The UN's top court has ruled overwhelmingly in Somalia's favour in a bitter seven-year maritime dispute against its neighbour Kenya on Tuesday.
In its judgment read by the presiding judge at ICJ, Joan E. Donoghue, the court granted Somalia most of the territory that it had claimed.
Oil and gas speculators believe that the 62,000 square mile area is potentially rich in hydrocarbons.
A fifteen-judge panel of the International Court of Justice (ICJ) rejected Kenya's claim that there had been an agreed maritime boundary with Somalia and ruled that the maritime border should run on equidistant or on a median line as suggested by Somalia.

The ICJ ruled that contrary to Kenya's assertations, there was never a formal agreement with Somalia regarding their maritime boundaries. Furthermore, Kenya did not consistently maintain its supposed boundary claim.
"The court unanimously finds that there is no agreed maritime boundary between the Federal Government of Somalia and the Republic of Kenya that follows that parallel of latitude."
"Kenya has not consistently maintained its claim that the maritime border with Somalia is defined by the line of latitude between the two side," said Judge Donoghue.
Kenya argued that a 1979 decree by former President Daniel Arap Moi was proof that it has always maintained its border as a parallel line. It says that since then, it has exercised sovereignty in the EEZ territory it claimed.
The Court pointed to the  2009 MOU with Somalia – which acknowledged a boundary dispute – and subsequent meetings as explicit evidence that both sides recognized that a resolution was not met.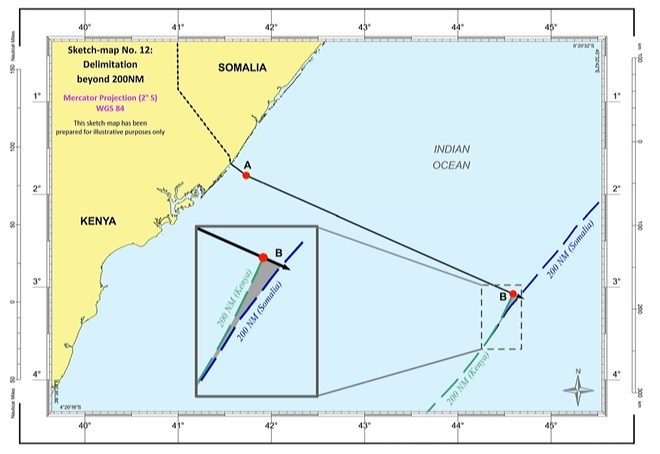 The ICJ also found that Kenya entered into negotiations with the Somali government in the 1980s, which ended inconclusively, further proving that it has not been consistent on its maritime border claims.
The Court said that it could not ignore Somalia's 30-year civil war. Its government inaction during that period cannot be interpreted as de facto acceptance of Kenya's border claims.
The Court also rejected that Kenya's security claims warranted an adjustment of the equidistant line.
The Court said that it was not convinced by Kenya's argument that the new maritime boundary would have catastrophic effects on the livelihood and economic wellbeing of Kenyan's.
"17 of the 19 fish landing sites are located in the Lamu archipelago and would therefore be unaffected by the equidistant line."
Somalia immediately welcomed the result.
"Congratulations to the Somali people, we have succeeded in securing our seas," Somalia's minister of information, Osman Dubbe, tweeted.
Dubbe thanked Somalia's lawyers for their assistance.
"Finally, we made it. Thanks to all the great lawyers who represented Somalia on the International Court of Justice. 12th October, our national flag day, will be another historic day for all Somalis."
It appears that Kenya anticipated the negative result. Ahead of Tuesday's verdict Kenya said that it would no longer recognize the international court's jurisdiction.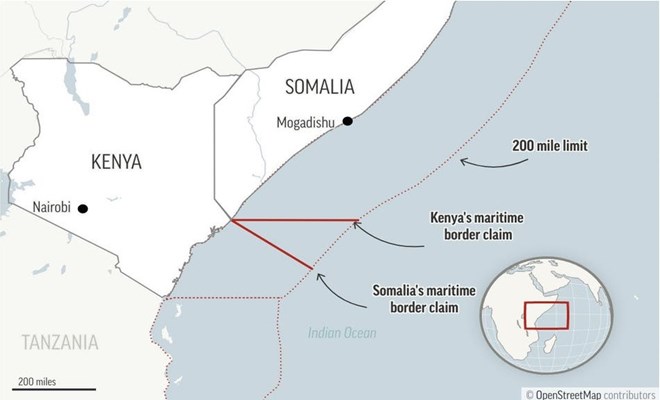 The delivery of the Judgment will be the culmination of a flawed judicial process that Kenya has had reservations with, and withdrawn from, on account not just of its obvious and inherent bias but also of its unsuitability to resolve the dispute at hand," said Kenya's foreign office.

Nairobi has already granted exploration concessions to major European multinational oil and gas companies, including Italy's ENI.
However, the court did reject Somalia's claims for reparations, saying that Kenya's conduct in the disputed area before the verdict did not violate international law.
Kenya also refused – at the 11th hour – to participate in oral hearings for the case in March.
Somalia initiated legal proceedings against Kenya at the international court in 2014 after it failed to solve the dispute after several meetings.
The court asked that both Somalia and Kenya accept the ruling and each other's sovereignty.
The ICJ rulings are final and legally binding, meaning that Kenya cannot appeal. However, its enforcement relies on the Security Council. Several countries including the US and China have openly flouted the ICJ's decisions in the past
Source: Hiiraan Online