Somalia has declared deputy head of AMISOM Simon Mulongo persona non-grata and ordered him to leave the country within seven days.
In a letter addressed to the African Union Commission, Somalia said Mulongo, a Ugandan national, was 'engaging in activities incompatible with AMISOM mandate and Somali security strategy.'
It ordered him to leave the country within seven days. The nature of activities Mulongo is accused of remained unclear, but the letter came barely a day after Foreign Affairs Minister Mohamed Abdirizak hinted at 'individuals hindering the Somali nation.'
"Somalia will realize the implementation of the STP (Somali Transition Plan), everyone will be held accountable for their action, no one will be allowed to hinder the Somali nation, we have simply come too far," the minister said in a tweet.
Shortly after the release of the letter addressed to the AU, Abdirizak remarked that "the FGS will hold accountable AMISOM personnel, particularly those at the leadership level, who are expected to be beyond reproach in their integrity as they discharge their duty under the UN/AU mandate."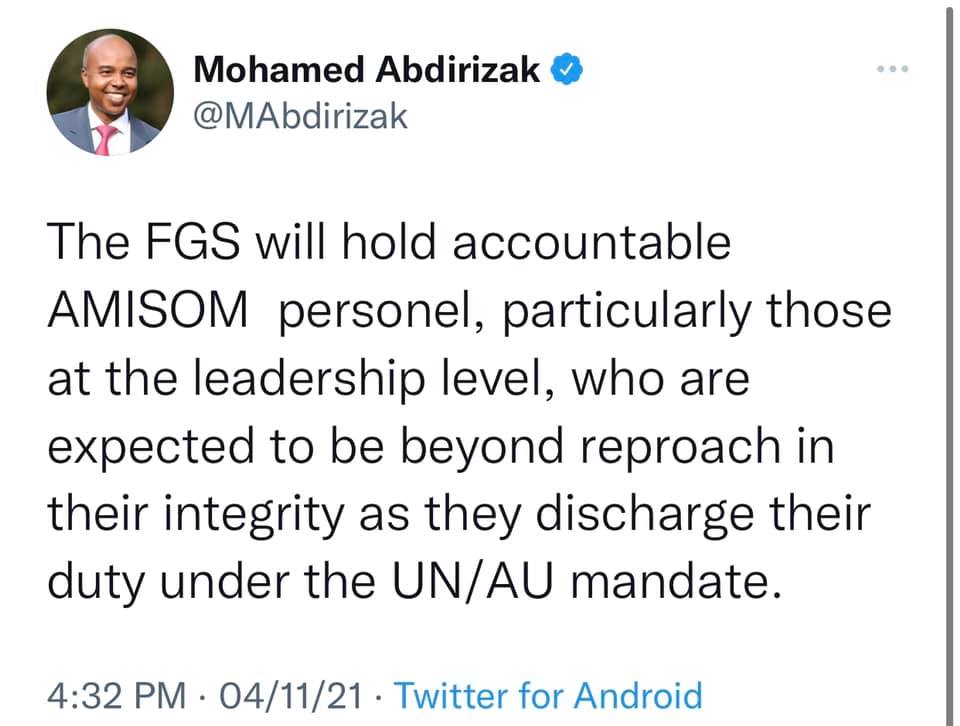 Somalia's federal government recently rejected a proposal to fold the African Union Mission in Somalia into a joint AU-UN force that would take over at the end of AMISOM's mandate this year. The African Peace and Security Council approved the proposal.
Somalia' accused the Council of disregarding an assessment from a joint technical team that drew out a concept of operations to take over the security responsibility following an AMISOM drawdown.